Why You Should Work with Us
Our experienced and polite staff have handled many cases similar to yours. We keep you well-informed during every step of the process and all of our fees will be explained before any work is started on your case. We listen and pay attention to our clients' needs. At JGB, we provide legal advice that works and we take pride in our client service.
In addition, our attorneys have been honored by awards such as:
Super Lawyers®
Super Lawyers® Rising Stars℠
Avvo Rating of 10.0 Superb in Estate Planning
Top Lawyers by Coastal Virginia Magazine
---
Learn More about Our Virginia Lawyers
Johnson, Gasink & Baxter, LLP (JGB) is a law firm which focuses its practice on assisting clients from our offices in Williamsburg, Virginia Beach, Richmond, Fredericksburg, Manassas, and Stafford. With more than a half-century combined experience and an in-depth knowledge of the law, attorneys at JGB have the experience to handle the needs of all kinds of estates, whether they are large, small, simple, or complex.
We Do Things Differently
At JGB, our estate planning lawyers work to be real and relatable to clients. We avoid jargon and pomp, preferring to communicate in clear and relatable terms, even with complicated issues. We always strive to put your legal options into practical, easily communicated solutions.
We show up on time and are always prepared. When our attorneys are with a client, we shut out all other distractions and focus on our client's needs. Each client's individual concerns are critically important, just as each of our clients is important to us.
---
Meet Your Attorneys
Dedicated Legal Professionals
Proudly Serving Clients Throughout Virginia
The following office locations are by appointment only: Williamsburg, Virginia Beach, Richmond, Fredericksburg, Stafford, and Manassas.
---
Call Johnson, Gasink & Baxter today at (888) 487-9899
---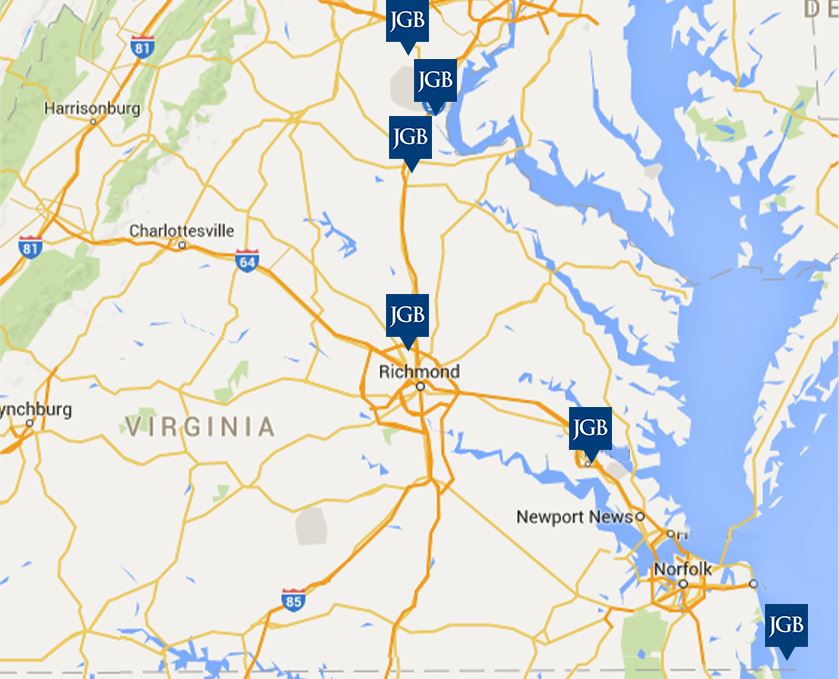 Contact Us Today
Work with Attorneys Devoted to Your Best Interests